Following its launch in 2006, the Within4Walls Collection continues to represent the very best of British and European contemporary lighting and furniture. Offering an unrivalled portfolio of stunningly beautiful award-winning light designs and furniture icons for your home interior or corporate environment.
The company forms a portal for those designers and makers who defy mass production and who continue their quest to create unique and beautiful pieces produced to sustainable principles.
We are very proud to be partnering with Within4Walls. Serving private and corporate clients worldwide, solid timber interior Sqill options can now be conveniently ordered online and delivered to wherever you live.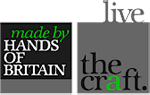 Made by Hands of Britain aims to be the place to find and own some of the most beautifully crafted, unique products and services that Britain has to offer. Championing and promoting those people who have the care, passion and dedication to make a product or provide a service by hand, from concept to completion, producing something that is unique in style and of the best quality.
Partnering with MBHOB is an honour we are very excited by and one which opens the door for you to purchase real wood veneered Sqill designs online (link to bit.ly/TjxKCn) through this fantastic marketplace.
CONTACT
Clay Designs are based on the Cambridgeshire / Suffolk border. You can contact us through any of the following methods:
For general information or enquiries
By Email: information@claydesigns.co.uk
By Telephone: 01638 661548
If you would like to discuss specific requirements our Co-founders are always happy to help:
David Chapman - Co-Founder / Right Brain
By Email: david@claydesigns.co.uk
By Telephone: 07748 504814
Roxanne Needham - Co-Founder / Left Brain
By Email: roxanne@claydesigns.co.uk
By Telephone: 07946 629038